Anasazi Historical Site & State Museum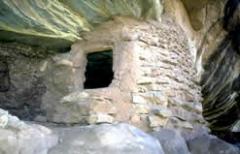 Visit the museum and partially excavated prehistoric Indian village at Anasazi State Park. The park is located in the town of Boulder on Scenic Byway 12.
This ancient Indian village in the heart of Utah's canyon country was one of the largest Anasazi communities west of the Colorado River. The site is believed to have been occupied from A.D. 1050 to 1200. The village remains largely unexcavated, but many artifacts have been uncovered and are on display in the newly remodeled museum.