Appomattox Court House National Park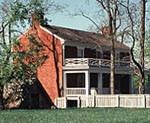 Robert E. Lee surrendered to Ulysses S. Grant, effectively ending the Civil War on April 9, 1865.
The majority of the buildings, including the McLean House where the surrender took place, are original to the site.
Visitors can enjoy the vast history of this site and experience the monumental impact of this important event.