Arlington National Cemetery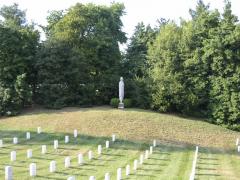 Arlington National Cemetery in Arlington County, Virginia is a military cemetery established during the American Civil War on the grounds of Arlington House. Veterans and military casualties from each of the nation's wars are interred in the cemetery, from the American Civil War through military actions in Afghanistan and Iraq, with pre-Civil War dead having been reinterred after 1900.
Arlington House was formerly the estate of the family of Confederate general Robert E. Lee's wife Mary Anna Lee, a great grand-daughter of Martha Washington, and it stands today as a memorial to Lee as administered by the National Park Service.