Assumption Parish Courthouse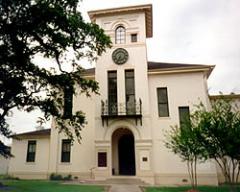 The Assumption Parish Courthouse was built in 1896, while the nearby jail is an earlier building that was in place by at least 1885. The late 19th and early 20th centuries were a time of revival styles in architecture, recalling Greek, Roman, and Romanesque styles of earlier periods. The Assumption Parish Courthouse and Jail stand as the singular examples of Italianate architecture in the parish. The land on which the buildings now stand, along the West Bank of Bayou Lafourche, was donated by Maxill and Caroline Bourg in 1818, to serve as the permanent location for the courthouse. It was at this time that Napoleonville (today, with a population of 802) became the county seat. An earlier courthouse probably stood here, and some of its decorative features may be those that appear in the present courthouse, such as the earlier Federal and Greek Revival style mantels.
The Courthouse is built predominantly in the Italian-villa style--a two-story building in an L-shaped floor plan with a tower, or campanile. Although predominantly Italianate in design, the courthouse does show slight influence of the Romanesque Revival style in the massiveness with which the round arch entrances and the palladian windows, on the third level of the tower, are articulated. The Jail, too, features an Italianate style tower on its southeast corner, which may or may not belong to the original building. Both buildings are sheathed in stucco, a feature that highlights the simplicity of the design, while allowing the more ornate features, such as the towers, gables, windows, and pilasters to be accentuated. The Courthouse and Jail are today connected with a modern addition, though at the time of their construction, they were separate buildings. The courthouse has received a number of alterations since its construction. A first floor addition to the parish Tax Assessor's office has been added, along with a partially enclosed parking garage at ground level between the new offices and the old jail, and a new jail filling the connector's second floor.