Avery Research Center For African American History & Culture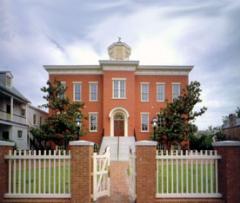 The Avery Research Center for African American History and Culture at the College of Charleston was established in 1985. From its inception, the Center has served as a source of community outreach on African-American issues. Between 1700 and 1800, at the height of the Atlantic Slave trade, 40% of Africans who were forcibly shipped to mainland North America, came to the shores of Charleston, South Carolina. The unparallel impact of the skill, talent and leadership of enslaved and free blacks, have produced an unprecedented history in Gullah and Sea Island culture, slavery, civil war and reconstruction, civil and women's rights, education, business, and the arts. It is Avery's mission to preserve this legacy.
The Center maintains an archive of primary and secondary source material of nearly 4,000 holdings that encourage scholarship, research, and presentations by scholars, researchers, and students. The Center also operates as a small museum, a national historic site with a listing on the National Register of Historic Sites, and a cultural center. Avery's mission is intended for a diverse array of constituencies.