Bartow Pell Mansion Museum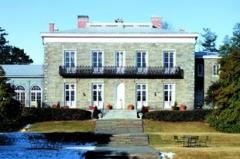 In 1836, Pell family descendant Robert Bartow and his wife, Maria Lorillard, purchased part of the old manor and built a fashionable three-story Greek Revival mansion, with a dramatic freestanding spiral staircase connecting the elegant parlors on the ground floor with the bedrooms above. The Bartow-Pell Mansion was surrounded by pastureland, orchards, and lawns sloping down to the bay.
The family lived in the house for 50 years, until the Bartows' children sold the estate to the City of New York in 1888 as part of the new Pelham Bay Park. In 1914, the International Garden Club adopted the Mansion as its clubhouse, restoring and enlarging it. The Club installed the elegant terraced gardens in 1916. In 1936, during one of the hottest summers on record, Mayor Fiorello H. La Guardia moved his staff north to Bartow-Pell Mansion and directed the affairs of the City from a phone bank in the basement. Ten years later, in 1946, the Garden Club opened Bartow-Pell Mansion to the public as a museum.
Today, the interiors have been restored to their 19th-century appearance and feature important period furnishings by New York cabinetmakers and painters. Bartow-Pell Mansion is a National Historic Landmark and a New York City Landmark. Bartow-Pell Mansion is owned by the New York City Department of Parks & Recreation, operated by the Bartow-Pell Conservancy, and is a member of the Historic House Trust of New York City.