Battle Of Lexington State Historic Site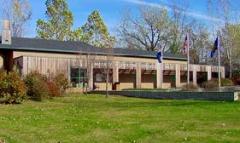 The house, which changed hands three times,  provided the downstairs hallway where many soldiers lost their lives.  It was once called "the largest and best arranged dwelling house west of St. Louis." Today Oliver Anderson's mansion is best known for the three bloody days in 1861 when it was a fiercely contested prize in a Civil War battle between the Union army and the Missouri State Guard.
The battlefield is quiet now, and restored gardens and orchards dot the landscape. But the remnants of the trenches can still be seen, and the graves of unknown Union dead echo a time less peaceful.
In addition to tours of the 1853 Anderson House, visitors may explore the 100 acres of the battlefield preserved at the historic site. A visitor center with exhibits and audio-visual programs explains the stirring events of Sept. 18-20, 1861, and why the "Battle of the Hemp Bales" lifted Southern spirits and further dampened Northern hopes of an easy victory in the struggle for Missouri.