Battleship North Carolina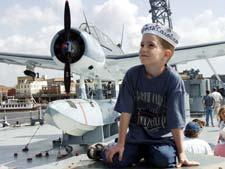 Historically, and until most recently, the most capable class of major combatants, or capital ships, in the U.S. Navy were named for States in the Union.
While the Battleship North Carolina is a very visible, and powerful, example of a capital ship, her lineage is equally impressive. The first ship to bear the name North Carolina was a ship-of-the-line in the 1820s. Following her was a Confederate ironclad in the 1860s, a World War I-era armored cruiser, a never-completed post-World War I battleship, the Battleship North Carolina of World War II fame, and in 2007 a nuclear attack submarine.
The self-guided tour of this authentically restored World War II-era combatant is well-marked so that visitors can tour at your own pace and it takes approximately two hours to complete. For the enthusiast, it can easily take three to four hours to fully experience the ship, particularly with the extensive interpretive signage throughout the ship.