Bayside Historical Society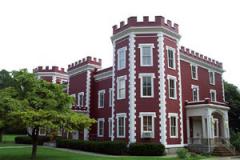 The birth of the Bayside Historical Society was the culmination of several committees initiated by its founder, Joseph H. Brown. His aims were the beautification and protection of the environment and community in which he lived, and awakening civic pride in Bayside's long history. In 1964, with Brown's leadership, the society was officially founded by a small group of like-minded residents with three goals: The preservation and restoration of the Lawrence Family Cemetery, Alley Pond and Fort Totten.
Today the Officers' Club at Historic Fort Totten Park is home to the Bayside Historical Society, and hosts events, exhibitions and cultural programs. It is a learning destination for local schools and a resource for scholars and community groups.