Bear Mountain Bridge And Tollhouse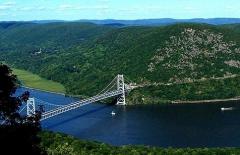 As the oldest of NYSBA's bridges, Bear Mountain Bridge was the first vehicular river crossing between New York City and Albany. At the time it was built, it was also the longest suspension bridge in the world and the first suspended bridge to have a concrete deck.
The project of building the Bear Mountain Bridge marked the beginning of a golden age of long span bridge building along the Hudson River and throughout the New York metropolitan area. The success of the inventive methods used broke new ground and paved the way for the building of other suspension bridges such as the George Washington and the Golden Gate.