Benjamin Rowe House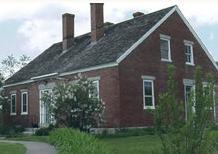 About 1838, Gilford farmer Benjamin Rowe decided to try his hand at making bricks. In turn, he built this Greek Revival Cape for his family. Following occupancy by members of the Rowe Family for almost a century, the farm passed onto Ernest Sawyer, the operator of a popular dairy there until 1947. In turn, the dairy farm was owned and operated by Alvah Wilson and his wife Ruth Sawyer Wilson. In 1969 the town of Gilford became owner of the farm. Gilford's three schools were built on land that once was part of this farm.
A unique floor plan and surviving details, including vintage brick fireplaces as well as antique paneling and hardware, have entitled the Benjamin Rowe House to be included on the NH State Register of Historic Places.
The Rowe House is appropriately furnished with items from the vintage home of Arthur A. Tilton and his family. The second floor affords views of construction of this c. 1838 farmhouse and, thanks to Arthur A. Tilton family furnishings, rooms of 1900s vintage.