Bethlehem Historic District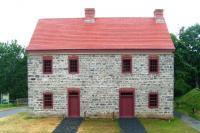 The Central Bethlehem Historic District is historically important beyond its current emphasis on the Moravian period of 1741 to 1844 considering the impact of industrialization and religious pluralism. The Moravian community functioned as a Utopian experiment, which allowed for cultural expression and religious adherence to a pietistic belief from German theologians emigrating from Europe to this part of Pennsylvania to bring Christianity to the Native Americans. Their communal way of life established extraordinary 18th-century industry and hand crafts in shared cooperative efforts. The various Moravian communal buildings, with 18th-century Germanic architectural elements, such as herringbone pattern doors, gambrel roofs with flared eaves, brick jack-arched windows and doors, tiled roofs, Germanic sloping-roofed dormers, parged stone walls, and deep-set windows represent the largest collection of Germanic style architecture in the United States.
After 1844, the divestiture of property by the Moravian Congregation enabled people of all religions to purchase land in Bethlehem. With the newly built Trinity Episcopal, Wesley Methodist, and Salem Lutheran churches, religious pluralism had arrived in Bethlehem. The growth of Bethlehem after 1845 was affected by the heavy industry when the Lehigh Valley Railroad and the Bethlehem Iron Company (later Bethlehem Steel) established their headquarters in the community. Several examples of high style architecture as monuments to wealthy industrialists were built on Main Street. In 1892 George H. Myers, director of Bethlehem Iron Company, the First National Bank, and the Lehigh Valley Railroad, built the largest building in the Lehigh Valley at 525 Main Street. Five stories high and built of Milford pink granite, it was designed by Philadelphia architect Wills G. Hale. Not all architectural innovations originated with wealthy industrialists, homes in the Gothic, Second Empire and Queen Anne styles can be found within the historic district.