Big Bone Lick State Park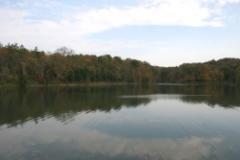 During the Pleistocene age, which occurred during the last great Ice Age, enormous herds of herbivorous animals existed in the vicinity of what is today Big Bone Lick State Park. The area is recognized as the key to understanding the life of the Ice Age on the North American continent over 10,000 years ago. The mammoth and the mastodon were among the animals to visit the Lick. Ancestors of the sloth, bison and horse also frequented the area, which had vegetation and salty earth around the springs that the animals used to supplement their diet. The land was soft and marshy and many of the animals became mired in the bogs and died.
The springs there were known for their medicinal qualities and by 1821 Big Bone Lick was one of the most celebrated resorts in that part of the Ohio Valley. A large hotel was erected and named Clay House, in honor of Henry Clay, the famous statesmen from Lexington, Kentucky.
The American buffalo, or bison, is the largest of all North American land mammals. Great buffalo herds once roamed this area and provided food, clothing and shelter for the Indians and pioneers. Hunted to near extinction, the last wild buffalo was seen in Kentucky around 1800. The park's herd is an effort to reestablish these animals at Big Bone Lick.
Spacious campground features 62 campsites with utility hookups, grills, a swimming pool and playground. Showers, rest rooms, and laundry facilities are available at a central service building. There is a grocery on-site for your convenience, which is open April 1-October 31. Closed for season from mid-November to mid-March.