Blandford Church And Cemetery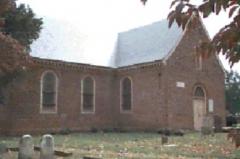 This 18th-century church became a memorial to the Southern soldiers who died during the Civil War. In honor of the Confederate dead, each state contributed a stained glass window designed by Louis Comfort Tiffany. Some of the weathered tombstones of the cemetery date to the early 1700s. Among the more noted individuals buried within the cemetery is one foreigner, Major General William Phillips, British citizen and commander of the British troops during the April 25, 1781 "Battle of Petersburg." Phillips died on May 13, 1781 in Petersburg following a fever that was most likely malaria or typhus. A memorial stone, erected by the Daughters of the American Revolution in 1914, stands adjacent to Blandford Church, marking the general location of Phillips' secret burial, done at the direction of his deputy commander, Brigadier General Benedict Arnold.
The cemetery's gravestones, sculptures, and tombs represent a diverse array of eighteenth, nineteenth and twentieth century styles of funerary art. In addition, some plots feature exquisite examples of nineteenth century decorative iron fences. Visitors are invited to take a walking tour of the grounds. The reception center inside the church features a display of artifacts associated with the history of the Cemetery and Church.