Blumenschein Home & Museum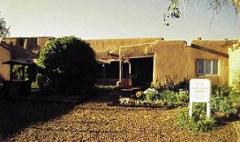 In the early autumn of 1898, a fortuitous accident resulted in Taos becoming a great American art colony. Having recently returned from studies in Paris, young American artists Ernest L. Blumenschein and Bert G. Phillips were on a sketching trip from Denver to northern Mexico when the wheel of their surrey broke on the mountainous road just north of Taos. The ensuing delay gave them time to become captivated by the spectacular landscape and remarkable cultures of the Taos Valley. Phillips remained in Taos from that time forward. Blumenschein came back nearly every summer until 1919, when he, his wife, artist Mary Greene Blumenschein, and daughter Helen purchased the 1797 structure for their permanent home.
Blumenschein and Phillips were instrumental in establishing the famous Taos Society of Artists. The society was organized to promote the splendor of Taos and the art of the American West to ever greater audiences.
The Blumenschein Home and Museum is maintained much as it was when the artist and his family were alive. The home is filled with a superb collection of the Blumenschein family's art, a representative sampling of works by other famous Taos artists, fine European and Spanish Colonial style antiques, and the family's lifetime of personal possessions. The home illustrates the lifestyle of Taos artists in the first half of the twentieth century.