Booker T. Washington National Monument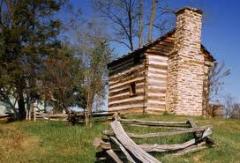 Author and orator Booker T. Washington was born in this small plantation, where he eventually took his "first breath of freedom."
On April 5, 1856, Booker T. Washington was born a slave on the 207-arce farm of James Burroughs. After the Civil War, Washington became founder and first principal of Tuskegee Normal and Industrial School. Later as an adviser, author and orator, his past would influence his philosophies as the most influential African American of his era.
The Booker T. Washington NM commemorates the birthplace of America's most prominent African American educator and orator of the late nineteenth and early twentieth centuries. The property evokes an 1850s middle class tobacco farm, representative of Booker T. Washington's enslaved childhood at the Burroughs farm. He was born to the Burroughses' cook, Jane and lived on the farm throughout the Civil War. Compared to their Franklin County neighbors, the Burroughses were an upper middle class family evidenced by their combined slave and land holdings. They produced tobacco as a cash crop and grew other subsistence crops like flax, potatoes, and grains for family sustenance. Washington lived in the farm's one-room kitchen cabin with his mother and two half siblings. As a small child he brought water to the men in the fields, carried the books of the Burroughses' daughters books to school, and transported grain to the local mill.
At the Visitor Center, exhibits and an audio-visual presentation orient visitors to the life of Booker T. Washington. The Plantation Trail is a ¼ mile loop through the historic area. It passes by reconstructions of the nineteenth century farm buildings similar to those that stood on the Burroughs Plantation when Booker T. Washington lived here as a boy.