Boone County Historical Society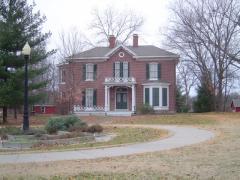 The Boone County Historical Society was formally organized in 1963 and opened its first museum facility on July 3, 1976, when it formally dedicated the Maplewood house. This Italianate house was built in 1877 as part of the farmstead of the Lenoir and Nifong families, which is now known as Nifong Park. In cooperation with the City of Columbia, which owns the house and park, and other historically-minded organizations, the Boone County Historical Society restored Maplewood for the nation's bicentennial. Since that time, the Society has maintained a cooperative agreement with the City of Columbia to operate Maplewood as an historic house museum.
With the restoration of Maplewood, the Boone County Historical Society began to discuss plans to build and develop a history museum adjacent to the historic house in Nifong Park. By the early 1980s, the Society drafted plans for the museum and began to seek public support for its construction. Construction began in October of 1986 and was completed almost entirely with private contributions, volunteer labor and donated materials. The Walters-Boone County Historical Museum, named in honor of a major benefactor, opened to the public on July 28, 1990. The museum houses history exhibits, offices, an auditorium, work space, collections storage, public meeting rooms and the Wilson-Wulff Genealogical Library, which is operated by the Genealogical Society of Central Missouri.
On June 19, 1993, the Society began construction of an addition to the museum. The Montminy Gallery, named for the benefactors and artists, Pierre and Tracy Montminy, opened April 24, 1994. With the addition of the Montminy Gallery, the Society was able to present exhibits of the Montminy's work, changing exhibits which highlight the work of Boone County artists and photographs from the more than 500,000 images in the permanent collection. The Montminy Gallery also provided space for a Curator's office, artifact and photo storage, a black white darkroom and a workroom for matting and framing.
These first-rate facilities, along with the museum's beautiful setting in 60-acre Nifong Park, have allowed the Boone County Historical Society to conduct a variety of programs and activities. These include Civil Civil War reenactments, Chautauquas, the annual Boone County Heritage Festival, and the "Christmas Past" Maplewood candlelight tours, all of which are presented in cooperation with Columbia's Parks and Recreation department. During the winter months, the Society holds Old Time Fiddlers jam sessions. Bimonthly meetings that include a program on local history are held throughout the year and the public is invited to attend them.