Boston African American National Historic Site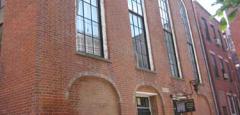 It has roughly two dozen sites on the north face of Beacon Hill. These historic buildings were homes, businesses, schools, and churches of a thriving black community that, in the face of great opposition, fought the forces of slavery and inequality.
19th Century Abolitionists
The Boston African American National Historic Site contains buildings and sites connected to scores of men and women who fought for the abolition of slavery. Abolitionist activism took many forms: political speeches, court cases, newspaper and pamphlet publications, open militancy and defiance of federal laws, etc. Abolitionists such as Maria Stewart, Wendell Phillips, Frederick Douglass, and others spoke against slavery at the African Meeting House and at the Charles Street Meeting House. Lewis Hayden sheltered and protected hundreds of self-emancipated slaves at his boarding house on Phillips Street, as did other community leaders including the Rev. Leonard Grimes, William C. Nell,James Scott, and Susan Hillard. John J.Smith, Lewis Hayden, John Coburn, and a dozen other men helped rescue Shadrach Minkins from federal custody in 1851.