Bradford Brinton Memorial & Museum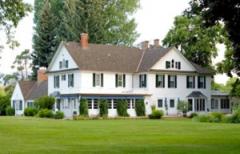 The Ranch House on the Quarter Circle A Ranch, on the National Register of Historic Places, was built in 1892 by William Moncreiffe, renovated and enlarged by Bradford Brinton in 1927-28, and opened to the public as a memorial to Western art and history through Helen Brinton's will in 1961. The Brintons' collection, on display in its original setting, includes splendid artwork by Charles M. Russell, Frederic Remington, Edward Borein, Frank Tenney Johnson, Hans Kleiber & Bill Gollings and many others.
The museum preserves the Quarter Circle A Ranch lands on the Western Plains and the frontier of the Rocky Mountains as well as the Brinton's collection of fine art, furnishings and historic and Native American artifacts. Items in the collection include an original letter by Abraham Lincoln and a document written by George Washington. Besides the main ranch house, the grounds include the Little Goose Creek Lodge and the Gallery, which contains the Native American collection.