Brices Cross Roads National Battlefield Site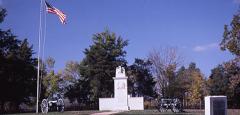 Near the monument, visitors can study two signs that provide information about the battle. Beyond the one-acre memorial site though, there are other areas worth exploring to learn more about this significant landscape.
Bethany Associate Reformed Presbyterian Church - Today visitors can see the church on the south side of Rt. 370. During the battle, Bethany Church was across the street from its present location and served as a field hospital following the June 10, 1864, battle.
Bethany A.R.P. Church Cemetery - This cemetery is the final resting place for many people that have called this area home for more than 150 years. This cemetery is also the burial site for 96 Confederates that fought and died as a result of the battle.
Interpretive Trails - There are two trails that take visitors off the road and over the terrain of the battlefield. There are signs along these trails that explain the significance of where one is standing relative to where the fighting took place.