Bronx County Historical Society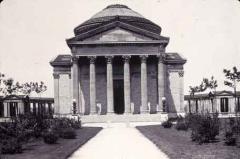 The society is not only dedicated to preserving Bronx history. It also offers a variety of programs for the casual visitor, tourist, business person, student, or researcher interested in learning more about contemporary life in The Bronx. Tours of the borough are conducted by the society's staff and volunteers, while special publications, radio and cable T.V programs, concerts, educational programs, expeditions, art shows and lecture series highlight today's Bronx as well as the borough's heritage.
The common theme in all these activities is the restoration is pride in The Bronx through an awareness of the borough's true place in the history and development of the region. The buildings maintained by the society are major attractions and also serve as anchors around which stable neighborhoods can develop and thrive. Educational programs allow people of all ages to explore firsthand the history of the borough by becoming active participants in the discovery and preservation of the past and present. The society believes that its contributions are unique and play a central role in the revitalization of The Bronx.