Brunswick Historical Society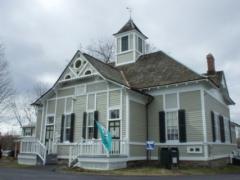 The Brunswick Historical Society began in the early 1970's, when a handful of community members interested in preserving both the history and historically significant structures of Brunswick began meeting for conversation and an investigation of the past. The original group assembled in rooms of local churches, school libraries, and in each other's homes, while soliciting town residents for the donations that later became the foundation of the society's collections. As the group did not yet have a permanent address, the collected historical records, documents, and objects were housed around town in the garages and outbuildings of kindly neighbors.
Due to the considerable interest, in 1974 the members invited all residents to a meeting to discuss the possibility of formalizing a historical society for the Town of Brunswick. Further meetings were scheduled and, in the fall of that year, Charter Memberships were issued to those who had initially organized the group. While membership was limited at first, the celebration of both New York State and America's Bicentennial sparked an interest in local history that prompted many other town residents to join the group.
Today, the Brunswick Historical Society has its permanent home at the historic Garfield School, where it maintains a library and its collection of reference materials, photographs, objects and other ephemera intrinsic to local history.