Burden Ironworks Museum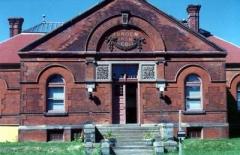 An exhibit on Greater Troy's industrial history is housed in the former office of the Burden Iron Works. Constructed 1881, the distinguished brick Romanesque Revival building contains examples of objects manufactured in the city throughout the 19th century.
The museum is operated by the Hudson Mohawk Industrial Gateway, which also maintains downtown Troy's RiverSpark Visitor Center (where there are additional exhibits about the city's history) and sponsors a regular series of tours, including one that focuses on Troy's large concentration of Tiffany windows. Self-guided walking tours of the city's large collection of 19th-century buildings are also available there.