Bussard Farmstead At The Agricultural History Farm Park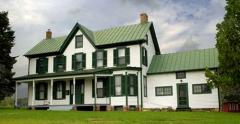 Situated along Rock Creek in Derwood, Maryland, the Agricultural History Farm Park is a 410-acre complex with a farmhouse, barn, assorted farm buildings and an activity center.
The Farm Park hosts seasonal festivals depicting farm life both past and present. It serves as the host site for the popular Harvest Festival which takes place every October. Other programs are scheduled by Meadowside Nature Center and the Friends of the Agricultural History Farm park throughout the year. To interpret past farming practices, 70 acres were set aside as an historic area. The farmhouse is currently being furnished to reflect the home of an average turn-of-the-century family. The 1908 farm of the Bussard family includes a large bank barn, water tank house and other outbuildings.