Camp Floyd/stagecoach Inn State Park Museum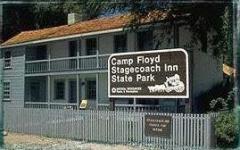 Camp Floyd / Stagecoach Inn State Park Museum is Utah's link with the Civil War. The quiet streets of Fairfield hold the secrets of 3,500 troops, nearly one-third of the entire U.S. Army at that time, which were brought to Camp Floyd to suppress the rumored rebellion in Utah. With no rebellion taking place, the troops were recalled in 1861 with the outbreak of the Civil War.
There are three historic buildings on site. Camp Floyd was built by the army in 1858 as a military equipment and provisions store; the Stagecoach Inn was built in 1858 as well, by John Carson as a hotel, and was restored from shambles in 1959; and the Fairfield District Schoolhouse was built in 1898 after Utah gained statehood.