Campbell County Rockpile Museum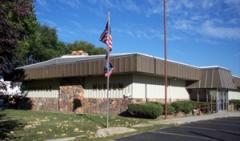 The museum contains collections of rifles, saddles, Native American artifacts, fossils, quilts, and other memorabilia. Much of the collection is used to illustrate the life of a homesteader or rancher in early twentieth century Wyoming. These objects include everything from kerosene stoves to rifles to sheep wagons. The museum also has a fine collection of objects related to the early history of urban life in Gillette including early office equipment, mercantile items, and objects from Gillette's earliest hotels. A growing segment of the Rockpile Museum collection is devoted to the energy production so vital to the area's economy. Objects related to the coal, gas, and oil industries can all be found in the museum.
The Rockpile Museum also has a fine archeological collection as well as some anthropological artifacts and natural history specimens. The museum displays hundreds of Native American spearpoints and arrowheads. It also houses a growing archival collection that includes photographs, newspapers, legal documents, and miscellaneous documents.
Along with our popular "dress-up" area for kids, there are many hands-on activities for children to engage in while touring the museum.