Cane Ridge Meeting House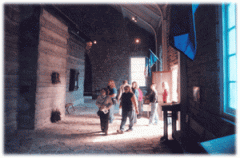 Prayer, singing, and preaching occur in the Meeting House, a place of worship for many congregations and religious groups who come as welcome guests each year. Since the late 18th century and now, in the 21st century, worship services, weddings, celebrations, lectures, and other gatherings have taken place in the church and on its grounds. Each year thousands of travelers visiting Cane Ridge receive talks and tours from the curators.
The graveyard, burial site of many of the early settlers and Barton Stone, has unique ledger stones. Barton Warren Stone is buried beneath a white granite obelisk. His first wife Eliza's remains and ledger stone were brought from the graveyard at the farm where they had lived to the Cane Ridge graveyard in about 1930. The museum houses mementoes of the congregation, Stone and his family, the Stone-Campbell movement, a collection of antique farm and domestic implements, the office of the Cane Ridge Preservation Projects and a small book shop.