Canterbury Shaker Village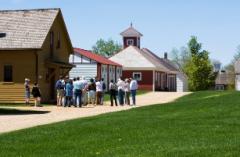 Canterbury Shaker Village was established in 1792 when followers of founder Mother Ann Lee formed their seventh community in Canterbury, NH, which remained prominent for 200 years. The Village has operated exclusively as a museum since 1992 when the last Shaker sister in residence, Ethel Hudson, died. The few remaining Shakers live at the Shaker Village in Sabbathday Lake, Maine. At its height in the 1850s, 300 people lived and worked in over 100 buildings on 3,000 acres at Canterbury Shaker Village.
The religious group that we know today as the Shakers was formed in 18th-century England when dissidents from various religions, including English Quakers and Methodists, formed a religious society based on prophetic doctrine. The group, formally called the United Society of Believers, were known as Shaking Quakers, or Shakers, because of their use of ecstatic dance in worship.