Fort Buford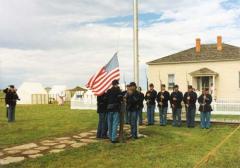 Fort Buford was a United States Army base established in 1866 at the confluence of the Missouri and Yellowstone Rivers in North Dakota. It is named for John Buford, a Union Army cavalry general from the Civil War. It served an essential role as a sentinel on the northern plains for twenty-nine years, but is likely best remembered as the site where the Sioux chief Sitting Bull surrendered in 1881 after nearly two decades of sporadic fighting.
Fort Buford had just one other claim to fame: Indian raids of the fort—and naturally other forts in the western territories—had ultimately led to the propagation of a hoax called "The Fort Buford Massacre." Supposedly, according to the Philadelphia Enquirer on April 1st, 1867, all of Fort Buford's troops had been wiped out, and both the commanding officer and his wife had been captured, to be tortured to death and abused, respectively. The hoax was eventually exposed by Captain Rankin, the commanding officer himself; nevertheless, the media and the public's willingness to believe this report was indicative of the state of relations between the peoples of the United States and the Indian nations.
For the fifteen years after Sitting Bull's surrender, Fort Buford's soldiers were to protect the survey and construction crews of the Great Northern Railway, to prevent Indians and Métis from crossing the border from Canada, and to police the area for outlaws. Both the end of the Indian Wars and the remoteness of its location had nullified its importance as an army outpost to the United States, and so, by 1895 the buildings were so dilapidated that repairs were deemed too expensive to be worthwhile. Thus, it was abandoned as an army outpost on October 1st, 1895. Today, the North Dakota State Historical Society runs the fort as the Fort Buford State Historic Site.