Chesapeake & Ohio Canal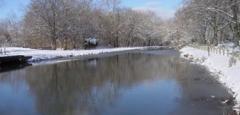 In the 19th century the C&O Canal provided jobs and opportunities for people throughout the Potomac River Valley. Today the canal's remains provide a place to recreate and enjoy nature, but most importantly they tell the story of the canal's important role in many aspects of American history. These include western expansion, transportation, engineering, the Civil War, immigration, industry and commerce.
Preserving America's colorful Canal era and transportation history, the Chesapeake & Ohio Canal National Historical Park is 184.5 miles of adventure. Originally, the C&O Canal was a lifeline for communities and businesses along the Potomac River as coal, lumber, grain and other agricultural products floated down the canal to market. Today millions of visitors hike or bike the C&O Canal each year to enjoy the natural, cultural and recreational opportunities available.
There are six visitor centers throughout Maryland and DC, please see website for additional information.