Fosterfields Living History Farm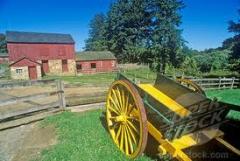 Originally owned by General Joseph Revere, grandson of Paul Revere, the property is now open to the public as a living history farm.
Designated as the first living historical farm in New Jersey, Fosterfields is a working, early twentieth century farm that is open to the public. Notably, the Foster's acreage is still intact, as are many of the original buildings. Demonstrations include seasonal plantings, cultivating, harvesting, and milking. Special programs held during the year feature sheep shearing, carriage driving and period cooking. In the spring, young animals are a major attraction. The farm hosts the New Jersey Sheep Dog Trials on Labor Day Weekend and an annual Civil War encampment every fall. Permanent exhibits and periodic displays may be viewed in the Visitor's Center. On a daily basis, visitors are invited to engage in a variety of farm and garden hands-on activities. Open to the public since 2002, the circa 1920s farmhouse highlights domestic life of the farm superintendent and his family. Guided tours of The Willows focus on the Foster family and their home during the early twentieth century. An archives is available to researchers.