Canton Historical Museum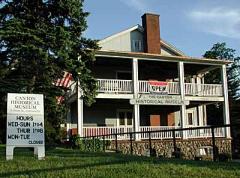 At its peak 100 plows a day were manufactured by the company. In 1924 the building was converted to a recreational facility for employees with a bowling alley on the second floor and fireplaces added.
Step back in time to a reconstructed 19th century general store, post office, barber shop, and blacksmith shop. Examine a fire apparatus pulled by hand, a case containing old medical instruments of the "horse and buggy" doctor, and a Civil War casket.