Cape Fear Museum Of History And Science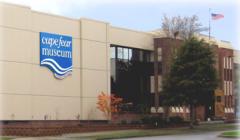 Cape Fear Museum of History and Science is the oldest history museum in North Carolina. Since its founding in 1898, the Museum has grown and changed. It began collecting confederate relics, and now collects images and artifacts that help us understand the history, science and cultures of the region.
The Museum began in one room, staffed only by volunteers. It has grown into a professionally run, American Association of Museums accredited institution, housing more than 50,000 objects.
The Museum was founded by a group of local women who wanted to preserve the objects and memories of the Civil War. Wilmington's newly formed chapter of the Daughters of the Confederacy was responsible for the Museum, which was originally housed in the Wilmington Light Infantry's building.
During World War I, the Museum collection went to Raleigh. After the war, it took a decade for Wilmington -- through the work of the New Hanover County Historical Commission and the UDC -- to reclaim the collection. In 1930, another women's organization, North Carolina Sorosis, took over museum operations. Under their administration, many new objects were collected, broadening the Museum's holdings to include items from many historical periods, events and cultures. Over the decades, the collection grew to represent regional, national and international materials of art, history and science.
In the 1960s, New Hanover County began to fund some of the Museum's operations. The county took administrative control in 1977. The first professionally trained museum staff arrived in the late 1970s, and over the past three decades, the Museum has grown in size and focused its mission.