Cedar Creek National Historical Park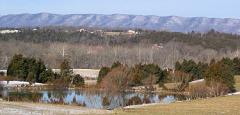 At the time of European contact American Indian groups, including Piedmont Siouans, Catawbas, Shawnee, Delaware, Northern Iroquois (Mohawks, Oneidas, Onondagas, Cayugas, Senecas, and later Tuscarora), Cherokee, and Susquehannocks, are thought to have been active in the park area.
The Lower Shenandoah became a settled landscape consisting primarily of small towns and dispersed and enclosed farms. In 1738 the first two counties west of the Blue Ridge were formed—Agusta and Frederick. The celebrated first European settler of the region was Jost Hite, who came to North America in 1709. After settling in the Germantown area of Philadelphia, Hite received a land grant from Virginia Governor Sir William Gooch in 1731 and led a group of 16 families to Virginia. Hite built a cabin and fort at Opequon Creek, near present-day Springdale along U.S. 11.
On October 19, 1864 the Confederates, under Lt. Gen. Jubal A. Early, surprised the Federal army at Cedar Creek and routed the VIII and XIX Corps, implementing a masterfully conceived and brilliantly executed tactical plan. Sheridan arrived from Winchester, rallied his troops, and in the afternoon, launched a crushing counterattack that succeeded in recovering the battlefield and in wresting control of the Shenandoah Valley from the Confederates.