Chagrin Falls Historical Society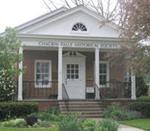 The Chagrin Falls Historical Society had its beginnings through the efforts of two librarians - Adria Humphrey, the Field Supervisor of the Chagrin Falls Branch of the Cuyahoga Library System, and Louise Ralston, the Chagrin Falls Branch Librarian. In 1949, members of the Library's 60 Plus Club, interested in Chagrin Falls' history, formed the Chagrin Falls Historical Society. They collected local memorabilia which was brought to and displayed at the Library, then located in the Village Hall. In 1950 membership increased to 21, and twelve people paid dues of $1 per year.
In 1951 the Historical Society's first public project was the restoration of the Village Bandstand. In 1953 Ohio celebrated its 150th year of statehood, and the Village celebrated its 120th birthday with a parade and a demonstration by the Fire Department in Riverside Park. In 1958 the Library moved to its new building on East Orange Street. A small upstairs room in the remodeled Village Hall was reserved for the Historical Society. In 1963 Lora A. Shute left a bequest to the Village of Chagrin Falls to build a community building with an area reserved for an historical museum. In October 1966 Chagrin Falls Historical Society held an Open House in the new Shute Building at 21 Walnut Street.