Charlotte Amalia Historic District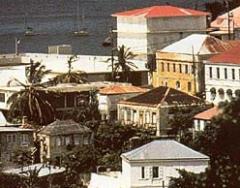 Charlotte Amalia, the first permanent European settlement on St. Thomas Island, was established in 1672 after the arrival of the Danish West India and Guinea Company. Platted in 1681, the town was named in honor of Denmark's Queen. An accidental misspelling on a map changed the name of the town to Charlotte Amalie after the U.S. acquisition of the islands.
During the 17th century, the settlement and harbor were known as safe havens for pirates and other infamous men the likes of Jean Hamlin, Bartholomew Sharp, "Tempest" Roberts and Captain Kidd. During the early 19th-century Napoleonic Wars, the British occupied the island, and, later, during the American Civil War, Confederate blockade runners briefly used Charlotte Amalie as a base. Today, Charlotte Amalie Historic District includes buildings and sites that represent the town's history.