Chemical Heritage Foundation Museum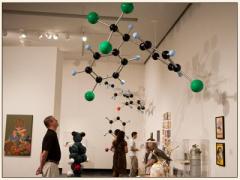 From chemistry's origins to today, the museum brings to life the unexpected beauty of science outside the lab. Visitors can trace scientific progress from the laboratory, to the factory, to their homes and learn how chemistry created and continues to improve the modern world.
Drawn from CHF's world-class collections, the exhibition ranges from cosmetics to computers and includes scientific instruments and apparatus, rare books, fine art, and the personal papers of prominent scientists. Rotating exhibits examine science, art, and everyday life.