Chester Historical Society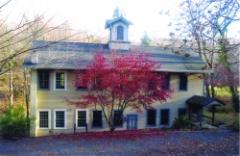 The Chester Historical Society was founded in 1970. In keeping with its mission, the Chester Historical Society has had a vibrant history. It has restored the Old Town Hall or Meeting House (circa 1793-94), established the Robbie Collomore Concert Series, sponsored numerous presentations on historic topics and worked with the local school system on educational programs.
The Chester Historical Society has written an impressive variety of publications about Chester, Connecticut. The six published books explore topics such as historical houses, a prominent citizen (Capt. Warner), and life in Chester 100 years ago. In addition the Society has published three maps showing the early town and its industries and residencies.
In late 2000, the Chester Historical Society launched its most ambitious project to date. The Society plans to open a new museum in the newly acquired C.L. Griswold factory building. The museum will interpret the Society's permanent collection through interactive exhibits, oral histories and other displays that highlight the region's heritage. In addition, the broader themes of daily life in a small New England village, including education, worship, immigration, farm, maritime, and factory culture will be explored. The Museum will bridge Chester's history with the region's current technological inventions and innovations.