Chimborazo Medical Museum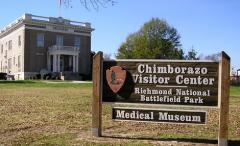 The city was flooded with casualties after the first battle of Manassas during the Civil War, which quickly overwhelmed existing hospitals. Wounded were treated in any space available - hotels, private homes, even barns. Realizing that a long war and thousands more casualties lay ahead, Southern leaders ordered the construction of five general hospitals in Richmond to treat the military's injured and ill.
Chimborazo was an excellent site for a medical facility for several reasons. Its location near the James River was convenient for the transportation of supplies on the Kanawha canal. Fresh water was readily available from natural springs, plus dug wells and steep slopes on three sides of the hill afforded good drainage.
More than 76,000 Confederate sick and wounded were treated at this site. Chimborazo hospital was innovative, pioneering several new techniques in medicine. Its use of separate wards allowed patients to be grouped together by state - a forerunner of the ward system in modern hospitals. Chimborazo was the largest of five Richmond hopsitals built during the Civil War. Visitors can enjoy exhibits that include a 17-minute film and diorama of the hospital.