Chippewa Valley Museum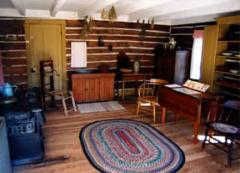 Located in Carson Park and surrounded by Half Moon Lake, the Chippewa Valley Museum explores the past of the Eau Claire area, from the native Chippewa tribe and the fur traders to the last century.
The Ojibwe (Chippewa) Indians have lived in the Chippewa Valley of Wisconsin for 300 years. Paths of the People, a major exhibit at the Chippewa Valley Museum in Eau Claire, Wisconsin, traces Ojibwe history and the events that forced them to make vital decisions about the directions their lives would take. The exhibit begins with a glimpse of the Wisconsin woodland as it appeared when the Ojibwe first arrived and moves up to the present. The exhibit features artifacts, documents and photographs from the fur trade to the tourist trade; from boarding schools to tribal schools; from treaties made and broken to treaties re-evaluated.
Yankee, Canadian and European setlers flocked to Wisconsin's Chippewa Valley in the 1850s to harvest the vast forests of white pine. Towns grew up over night. Before long, those "inexhaustible" forests were gone and the towns built to support the lumber industry had to find new reasons to exist. The Settlement & Survival exhibit follows the changes that took place between 1850 and 1925, a time when the scent of pine gave way to the smell of rubber tires, and the whine of sawmill blades was replaced with the hum of electric generating plants.
The museum also has a large exhibit about farm families and communities which traces the profound change in the farming life over the past century. As visitors travel to the various parts of the exhibit -- the farmhouse, the fields, the barn, and various local gathering spots -- they will explore how the political, economic, and cultural roots of the Chippewa Valley influence families today on and off the farm.
The grounds also include a number of historic buildings, open from mid-May to mid-October. Built in1866, the Lars and Grethe Anderson House reflects the Scandinavian heritage of the family who lived in this modest two-story log home. The one-room, rural Sunnyview School served children in grades one through eight from 1882-1961. Built in 1871, the Schlegelmilch House was constructed using bricks to survive the numerous fires which ravaged the "sawdust city" at the time. It did survive and now stands as an example of a middle-class, turn-of-the-century home. It is filled with furnishings from its past, including some from the original family.
The museum also contains an ice-cream parlor with a soda fountain dating from 1895. It is open from 1 p.m. to 5 p.m. any day the museum is open. Carson Park also features the Paul Bunyan Camp, which faithfully recreates a 19th-century northwoods logging camp, a working quarter-scale railroad, picnic pavillions and access for fishing and canoeing.