Christ Church And Burial Ground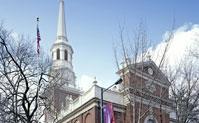 "No other church has played a more significant role in our nation's birth", according to historian David McCullough. Christ Church was founded in 1695 as a condition of William Penn's Charter. The current building dates to 1744, and has been cited as "our finest Early American church." Its steeple (1754) is the work of Robert Smith, one of America's earliest architects; Thomas U. Walter, later architect of the U.S. Capitol, redesigned the interior of the sanctuary (1832-36). At Christ Church, 25% of Philadelphia's free and enslaved Africans were baptized, a school was created to educate slaves, and the first black priest, Absalom Jones, was ordained. During the Revolutionary Era, Christ Church welcomed the Continental Congresses. Benjamin and Deborah Franklin and Betsy Ross were parishioners. Later, George Washington and John Adams attended services while they were the nation's Chief Executives. Here, the Protestant Episcopal Church in the United States was created from the ashes of the Church of England. Christ Church is a privately managed historic site that is an official component of Independence National Historical Park (INHP).
Every year 250,000 tourists visit Christ Church and its Burial Ground, putting it among the ten most frequently visited sites in the Philadelphia region. With seven signers of the Declaration of Independence and five signers of the Constitution buried here, Christ Church is a national shrine open to all, regardless of creed, giving inspiration and hope today as it did to the Founding Fathers centuries ago. Christ Church is not a museum or historical house, but an "authentic site", still doing what it began doing 311 years ago. This provides a particular resonance, linking early American lives with the interests of visitors. Stories about "religious tolerance" and "freedom of religion" have real meaning for visitors sitting in the pews of George Washington, Benjamin Rush and Sally Franklin Bache. Interpretation at Christ Church increases understanding of our nation's history and its relevance to the present.