City Of Las Vegas Museum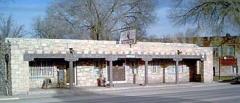 The Museum is housed in a 1940 Works Progress Administration funded building. Originally constructed as a municipal building, the structure is a venerable stone building with Pueblo Revival elements.
Collections include local Native American pottery, household items, costumes, Rough Rider memorabilia and ranching and farming equipment. The exhibit halls interpret agricultural and mercantile operations, home life, the Santa Fe Trail and the 1st Volunteer Cavalry Regiment, better known as the Rough Riders.