City Point Early History Museum At St. Dennis Chapel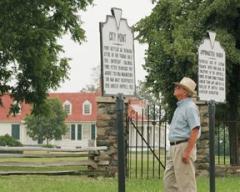 This local museum documents the history of Hopewell, Virginia.
This museum features artifacts and exhibits depicting Hopewell's colonial, Civil War, and early 20th-century history. On display at the City Point Early History Museum is the new exhibit, Breaking the Mold: Hopewell China 1920-1945. The exhibition tells the story of the pottery factory that opened in Hopewell on 1920, shortly after the 1918 closure of the E.I. Du Pont de Numours Company guncotton plant. After Du Pont's departure from the city, Hopewell experienced an economic depression, but advertising campaigns by Du Pont and the city attracted new industries to Hopewell, including the Hopewell China Corporation. Breaking the Mold details Hopewell China Corporation's business ups and downs and the process of making china at the local factory. On display are nearly 100 pieces from Hopewell China, Ostrow China, and James River Potteries-- all made at the Hopewell production factory.