Cliveden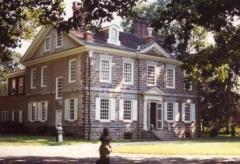 When Benjamin Chew built Cliveden as a summer home in the 1760s to escape Philadelphia's summer heat and disease, he was one of the first English-speaking residents in the small community of Germantown. Chew and his family were among the wealthiest Philadelphians of the colonial period, but Chew's wealth came from his British connections. As an attorney he represented the interests of the governing Penn family, and King George appointed him Chief Justice of the Colony of Pennsylvania. When the Revolutionary War began, Chew's loyalties were immediately suspect.
Visitors can still see scars from the 1777 the Battle of Germantown at Cliveden, where 75 Americans lost their lives trying unsuccessfully to capture the house.
Benjamin Chew sold his battle-damaged house after the war, but bought it back again near the end of his life. Chews continued to live at Cliveden until 1972, when they donated the property to the National Trust for Historic Preservation. Today, Cliveden is a historic house museum, one of a group of nationally significant sites owned by the National Trust.