Cole County Historical Society & Museum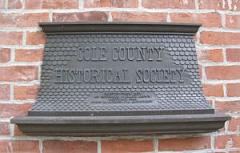 The Cole County Historical Society was formed on July 24, 1941. The dedication of the original society members and those who quickly joined made it possible to purchase the original museum building in 1946, and to complete the necessary renovation prior to the official opening at a reception on May 17, 1948.
The society is responsible for the maintenance and operation of the museum and the Upschulte House. Funds for these purposes have been and are, derived solely from membership contributions, fund raising projects, admission fees, and individual donations. The museum and library are staffed entirely by volunteers—there are no paid employees. All funds available are used without private benefit to any individual or group. For growth of and additions to its historical collections, the society depends upon individual and corporate gifts and bequests.