Crow Canyon Archaeological Center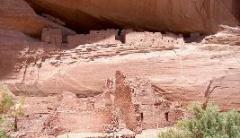 The Archaeological Center is dedicated to preserving the rich history of the ancestral Pueblo Indians (also called the Anasazi) who inhabited the canyons and mesas of the Mesa Verde region more than 700 years ago. The area has one of the densest concentrations of well-preserved archaeological sites in the world, attracting the interest of archaeologists, and capturing the imagination of the public, for well over 100 years.
Crow Canyon's campus-based programs allow visitors to participate in actual archaeological research, making exciting discoveries in the field and laboratory that add to the collective understanding of the Pueblo past. The Center's research and education programs are developed in consultation with American Indians, whose insights complement the archaeological perspective and add a unique cross-cultural dimension to your experience.
In addition, Crow Canyon offers educational travel programs throughout the greater Southwest and around the world—tours that provide additional opportunities for the study of native cultures, both past and present.