Crystal River Archaeological State Park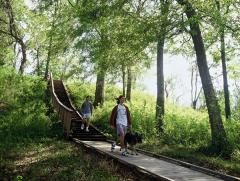 A focal point of pre-Columbian Native American ceremony and commerce, the Crystal River Archaeological State Park may have served up to 7,500 Indian visitors annually for 1,600 years before the first Europeans arrived. The complex contains burial mounds, temple mounds, a plaza area, and a midden, which was often a feature of sedentary societies. Visitors can climb stairs to the top of the largest mound for a scenic view of the surrounding area.
A National Historic Landmark, this 61-acre, pre-Columbian, Native American site has burial mounds, temple/platform mounds, a plaza area, and a substantial midden. The six-mound complex is one of the longest continuously occupied sites in Florida. For 1,600 years the site served as an imposing ceremonial center for Native Americans. People traveled to the complex from great distances to bury their dead and conduct trade. It is estimated that as many as 7,500 Native Americans may have visited the complex every year.