David Bradford House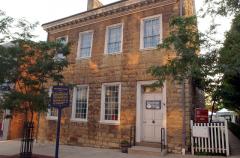 Bradford was by all means an upstanding citizen, serving at one point as the Deputy Attorney General of Washington County. However, when the the new nation faced its first crisis, he chose sides at odds with the government. In 1794, Pennsylvania whiskey makers found themselves hard-pressed by unfair taxes and refused to pay, prompting President Washington to order 13,000 federal troops to quell the rebellion in the western frontier of the state, centered in Washington County. When Bradford learned of his impending arrest, he fled to present day Louisiana, building a home there in 1797, where his family soon joined him. Eventually he was pardoned for his role in the rebellion.
In 1959, the home was restored back to its original 18th century design, including its magnificent mahogany staircase and fine wooden interiror, as well as a secret tunnel discovered during restoration that is thought to have served as a means of escape if the wealthy house ever came under attack.
The house offers tours, changing exhibits, and several other special events.