David Wills House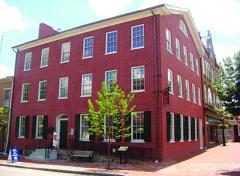 The Civil War came to the doorstep of the Wills home in 1863. During the Confederate occupation of the town, Wills saw "a group of rebels with an axe break open the store door" of one of his tenants. All the while, local citizens huddled in his cellar. In the office on the first floor, David Wills performed many of the duties of today's Federal Emergency Management Agency, Centers for Disease Control, and an American Red Cross in the battle's aftermath. David Wills arranged for the cemetery's consecration and Lincoln's visit, gathered and warehoused supplies for the wounded; and fought for compensation for the farmers who suffered losses during the battle.
Pennsylvania Governor Andrew Curtin visited the battlefield with Wills on July 10, 1863 and was shocked by its condition. He designated Wills as state agent, charged with seeing to the proper burial of Pennsylvania's dead. At a meeting of state agents in Wills' house several days later, the idea of establishing a permanent national cemetery for all Union dead was advanced. Governor Curtin approved and gave Wills the authority to carry it out.
On November 19, 1863, as many as 20,000 people converged upon Gettysburg to honor the dead and to catch a glimpse of visiting dignitaries. At the David Wills House you will stand in the room where Lincoln finished revising the Gettysburg Address the night before he delivered it, and explore how and why the Gettysburg Address is remembered to this day.
The David Wills House was among the largest in town, and on the evening of November 18 it overflowed with dinner guests, 38 in all. Edward Everett, the French Minister to Washington, Governor Curtin and other dignitaries graced this house. Mrs. Wills prepared several bedrooms for overnight guests, and every one was full, including her own – given to the President. Abraham Lincoln wrote portions of the Gettysburg Address before he left Washington but finished writing it in that very room.