Decatur House Museum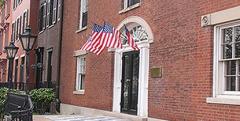 The Decatur House, designed by the father of American architecture, Benjamin Henry Latrobe, features exhibits on one-time resident naval hero Stephen Decatur.
Decatur House is one of the oldest surviving homes in Washington, DC, and one of only three remaining residential buildings in the country designed by Benjamin Henry Latrobe, the father of American architecture.



Completed in 1818 for naval hero Stephen Decatur and his wife Susan, its distinguished neoclassical architecture and prominent location across from the White House made Decatur House one of the capital's most desirable addresses and home to many of our nation's most prominent figures. Today, visitors see a restoration in progress and hear the compelling stories of this unique site, from elite socializing to a slave's campaign for freedom.